PRODUCT RANGE OF ENERGY WASTE COLLECTOR SYSTEMS FOR PASSENGER ELECTRIC TRANSPORT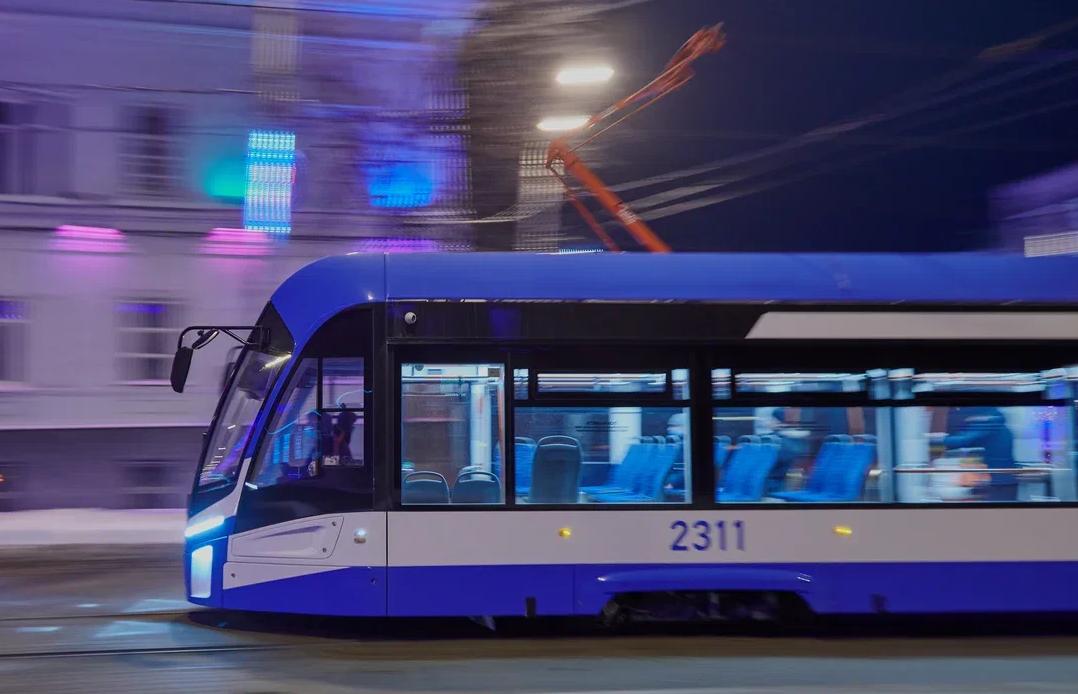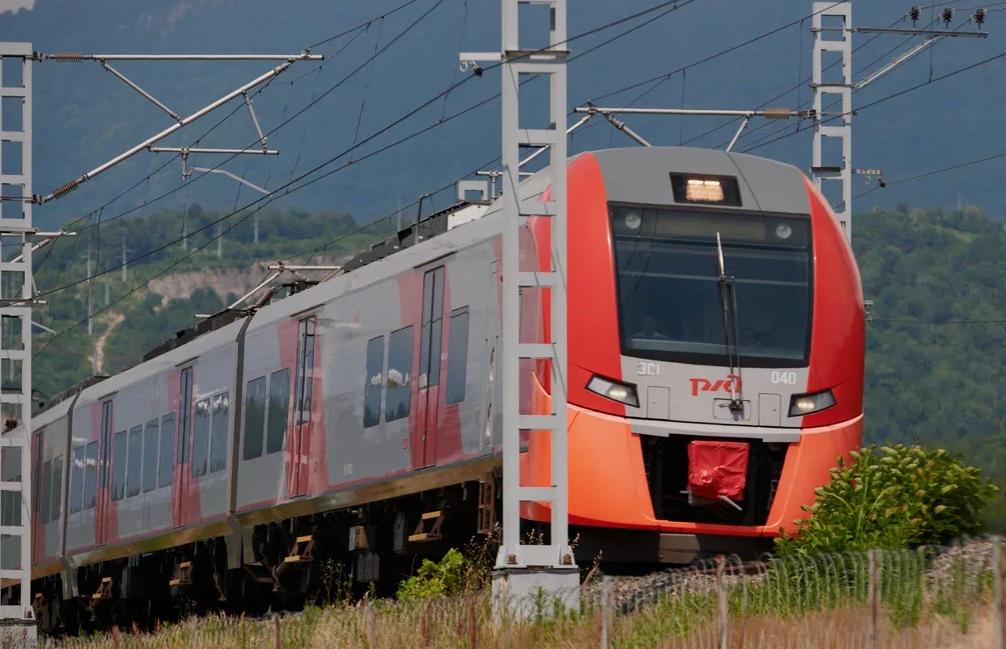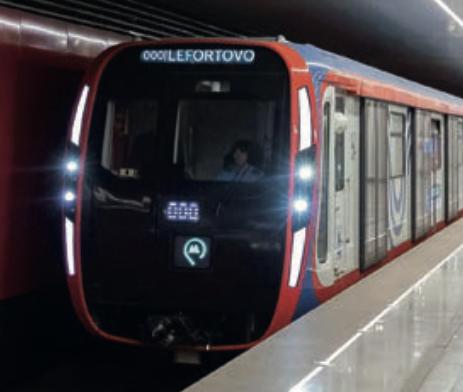 The EWC standard package:
Monoblock with supercapacitor modules;
Control system;
Discharge module intended for maintenance;
Fire-extinguishing system (optional);
Forced ventilation (optional).
Three options have been developed for the streetcar, depending on the dimensions of the EWC installation site:
| | | | |
| --- | --- | --- | --- |
| Module designation: | МО–162V50F | МО–162V50F | МО-225V33F |
| | | | |
| --- | --- | --- | --- |
| Module rated voltage | 150 V | 150 V | 225 V |
| Module capacity | 50 F | 50 F | 33 F |
| Quantity of modules | 6 | 5 | 4 |
| System rated voltage | 900 V | 750 V | 900 V |
| System capacity | 8,3 F | 10 F | 8,25 F |
| Weight of the system | 350 kg | 290 kg | 350 kg |
| Dimensions of the system | 1300х1100х500 mm | 1300х1750х250 mm | 1550х600х400 mm |
THE EWC PARAMETERS FOR A COMMUTER ELECTRIC TRAIN:
The EWC supercapacitor modules use environmentally-friendly carbonate electrolyte. The EWC systems are compatible with traction converters installed on the rolling stock of Transmash Holding, Sinara – Transport Machines, and Stadler.
| | |
| --- | --- |
| Composition of a single EWC traction accumulator | Value |
| | |
| --- | --- |
| Fire-extinguishing system | Optional |
| System of forced air-cooling | Optional |
| Resistor module (during maintenance or replacement of the module) | Yes |
| Supercapacitor module | МО-240V31F (Preliminary) |
| Rated module voltage, V | 240 |
| Rated electric capacitance of the module, F | 31 |
| Quantity of ultracapacitor cells in one module, pcs | 96 |
| Rated electrical capacitance of the cell, F | 3000 |
| Type of electrolyte employed | Based on propylene carbonate |
| Operating temperature range, °C | -20...+70 |
| Operating temperature range when heating with current at 10...100 Hz, °C | -40...+70 |
| Quantity of modules, pcs | 12 |
| Connection arrangement of the modules in a single traction energy storage unit | 6s2p |
| Required quantity of single traction energy storage units, pcs | 5 |
| Weight of a single traction energy storage unit, kg | ~ 800 |
| Dimensions of a single traction energy storage unit (LxBxH), mm | 2000x2600x650 |
| Total weight of the entire system (without a single traction converter), kg | ~ 4 000 |
ENERGY REGENERATION SOLUTIONS FOR HOISTING EQUIPMENT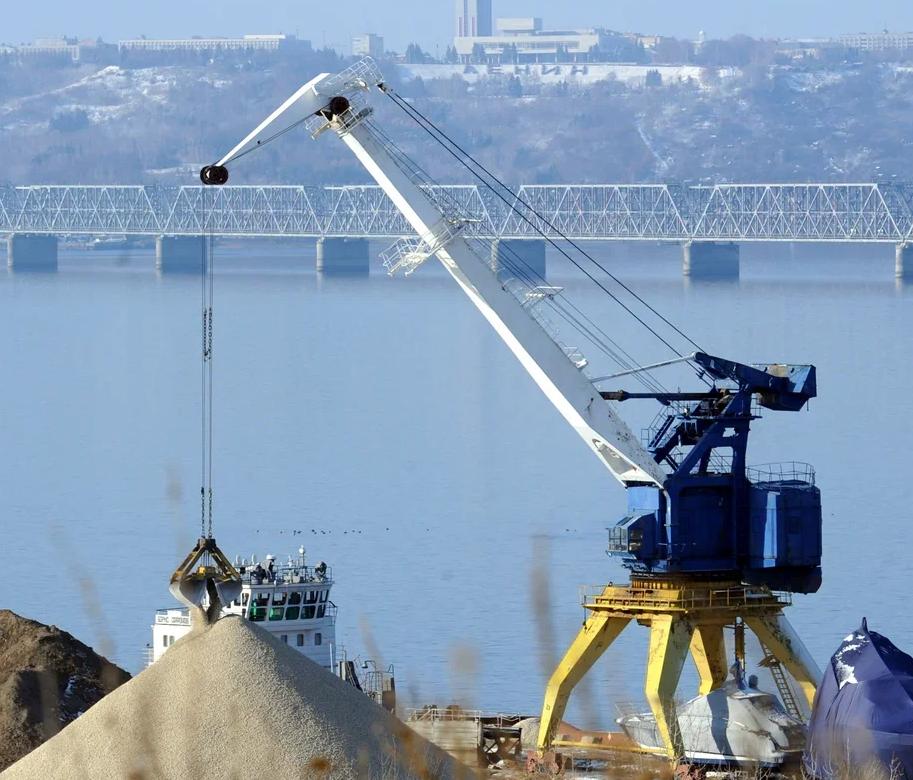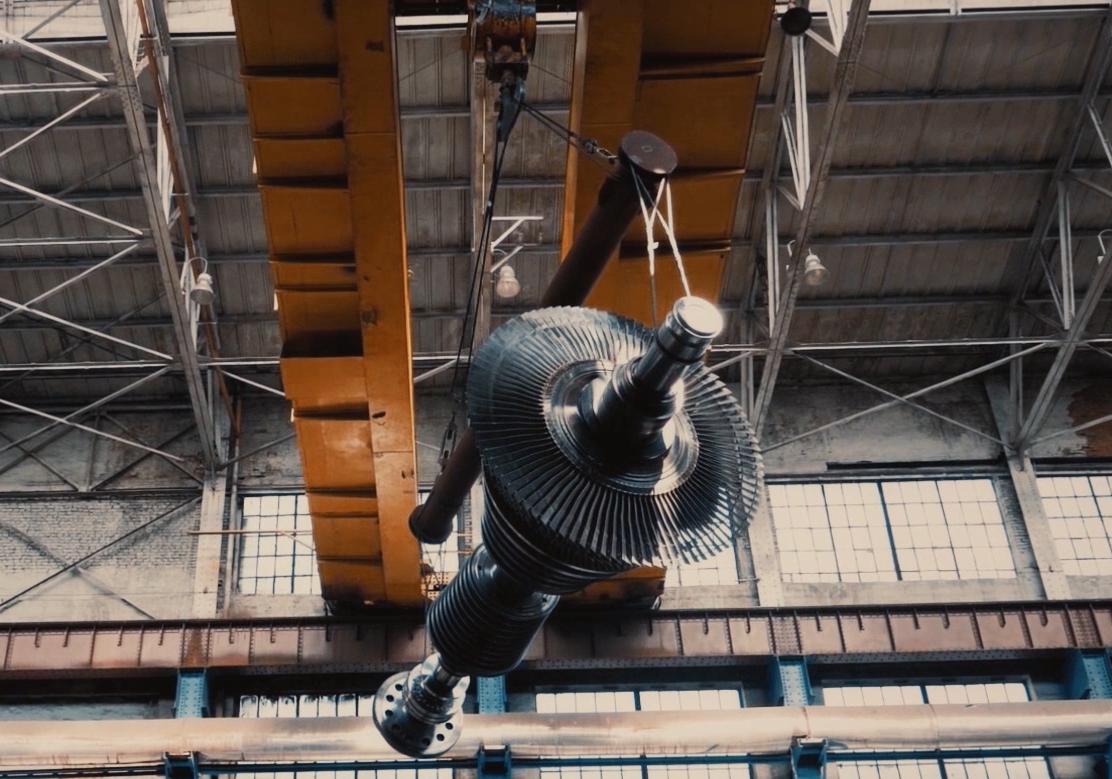 Two versions of the system have been developed for hoisting equipment:
direct connection to the DC bus of the crane frequency converter;
connection to the trolley, which may feed several cranes..
The system parameters are defined for each specific device, depending on the type of crane, load capacity and connection to the power network
System parameters for a crane with a lifting capacity of 120 tons:
| | | |
| --- | --- | --- |
| | Connection to the DC bus | Connection to the trolley |
| | | |
| --- | --- | --- |
| Power of the DC/DC converter | 110 kW | 220 kW |
| Range of the voltage input | 650…400 V | 400…200 V |
| Module quantity and model | 3 x Modules МО-220V30F | 3 x Modules МО-135V55F |
PROTECTION OF VARIABLE FREQUENCY DRIVES

Challenge
Disconnection of the variable frequency drive, including the actuators of the shut-off and control equipment, during voltage drops and a short-term, up to 10 seconds, loss of voltage in the network.
Solution
Power supply system of the variable frequency drive with an energy storage unit based on supercapacitors.
Connection is both feasible with a single variable frequency drive and a series of drives.
The system capacity and operating time are determined at the development stage of the terms of reference as required by the Customer.
Application:
Equipment for sites of continuous process cycle;
Equipment for supplying an enterprise with gas, water, heat, electricity (the shutoff and control fittings, compressors, pumps, boilers, etc.);
Equipment that is sensitive to variable voltage and a short-term voltage loss.
TEEMP collaborates with the developers and manufacturers of power converters: NPK Morsvyazavtomatika, SNE LLC, Danfoss, Freqcon
SYSTEMS FOR VOLTAGE DISTORTION COMPENSATION
System VDCS for variable frequency drives at oil refineries
The Voltage Distortion Compensation System (VDCS) is intended to protect the equipment against deep drops and interruptions in voltage, providing uninterrupted power supply to the infrastructure
Connection of the VDCS: in parallel to the existing automatic circuit breaker of the enterprise distribution substation.
VDCS BASIC SPECS
PARAMETER
VALUE
Rated power, kV*A
30…1200
Rated voltage, kV
0,4
Type of power supply
Supercapacitors
Duration of the compensated voltage drops:
100% deep, no less than
2
50% deep
Unlimited
Optimal temperature inside container, °C
+25
Seismic resistance under MSK64, points
9
VDCS FUNCTIONS
CHARACTERISTIC
VALUE
Compensating a voltage drop up to 50% of the rated value
Unlimited
Compensating the input voltage loss in a phase or in full
2 seconds
Increasing the time for autonomous operation
Scaling of the energy storage unit
Compensating the reactive power with the consumed load
up to 20% of the rated power
Correcting the output voltage during phase imbalance of the input voltage
available
Enabling direct startup of the asynchronous motor without disconnection of the VDCS from the network
Up to 5 rated power at VDCS
SOLUTIONS FOR VOLTAGE DROP COMPENSATION

Voltage Drop Compensation Device (VDCD) by TEEMP is a parallel switching device with its own power supply.
Parallel switching makes it possible to operate in a reactive power supply mode and also simplifies the device installation.
The selected power supply is a storage subsystem based on ultracapacitors:
High discharge current, which is required to eliminate problems caused by power drops and interruptions;
Supercapacitors are much more reliable compared to lithium and lead-acid batteries, and are able to operate under frequent charge/discharge conditions;
The supercapacitors characteristics are less degraded over time;
Supercapacitors require lower operating costs.
VDCD basic specs
Rated voltage: 6 kV
Rated power: 1,200 kV*A
VDCD rated energy capacity: 1.97 kW*h
VDCD energy capacity at the end of the system lifetime: 1.33 kW*h
Model of the supercapacitor modules: МО-162V-50F
Quantity of the ultracapacitor modules: 24
Climatic modification: NF1
Lifetime: 10 years
SOLUTIONS FOR HYBRID TRANSPORT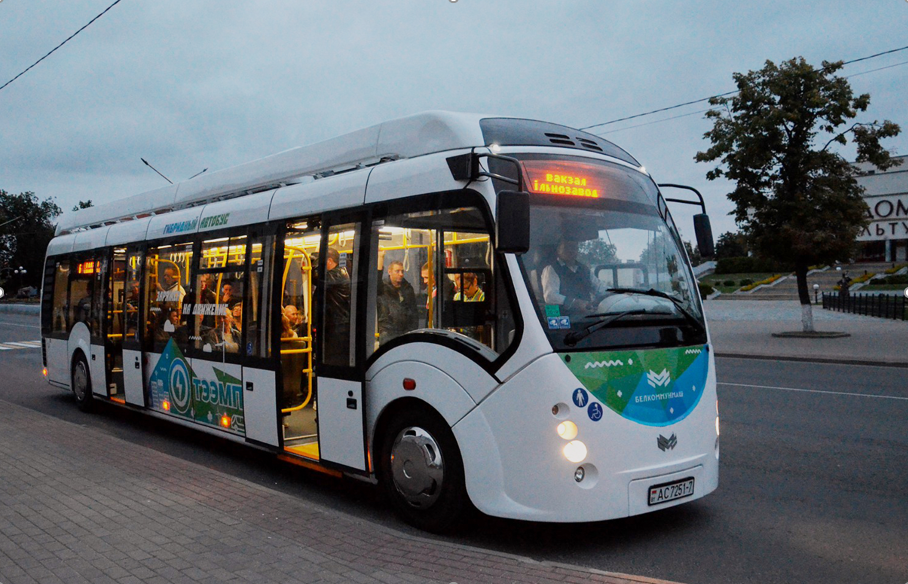 Belkommunmash city bus featuring TEEMP hybrid system
CONFIRMED FUEL EFFICIENCY OF THE HYBRID BUS – 27.7%
MORE EFFICIENT COMPARED TO A STANDARD BUS EQUIPPED WITH INTERNAL COMBUSTION ENGINE
The hybrid system consists of at least 2 power supplies. The first and main power supply is ICE, while the auxiliary power plant is a supercapacitor energy storage unit (ESU). The TEEMP storage unit is charged by the ICE and also by braking energy.
The main purpose of the supercapacitor ESU is to reduce fuel consumption by regenerating braking energy for further using it in acceleration mode.
| | |
| --- | --- |
| Parameters of the TEEMP module | МО-162V50F |
| Rated voltage, V | 162 |
| Maximum operating voltage, V | 162 |
| Capacity, F | 50 |
| Maximum operating current (300,000 cycles), А | 300 |
| Maximum pulse current, A | 750 |
| Short-circuit current, A | 10 000 |
| Energy capacity, kJ | 1 125 |
| Service life, charge/discharge cycles | 1 000 000 |
| Lifetime, minimum | 10 |
| Dimensions (LxBxH), mm | 1130x285x175 |
| Type of cooling system | Forced air-cooling |
| Protection class, IP | 65 |
| Quantity of modules in a system | 8 |
SUPERCAPACITORS FOR CARS WITH "MILD HYBRID"
Connection of the ultracapacitor to the car electric circuit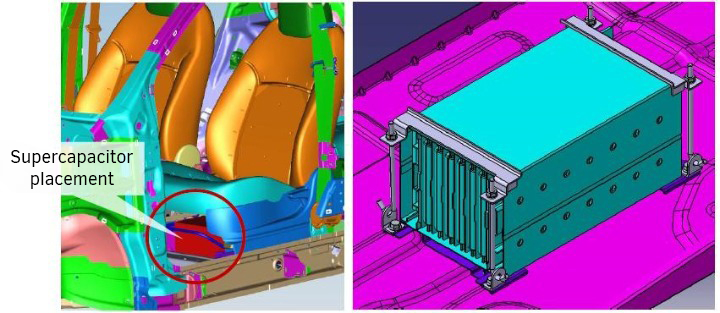 Mounting location of the supercapacitor module (under the passenger seat)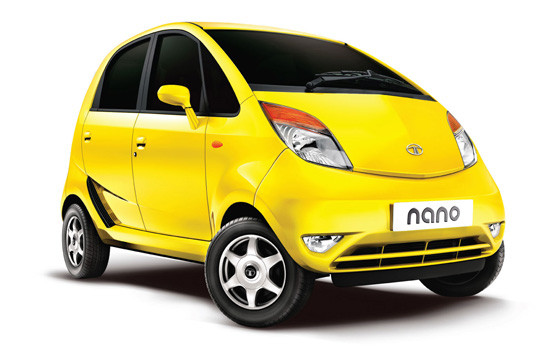 TATA Nano Car
Joint studies have been performed along with TATA Motors LTS (India) to use the mild-hybrid in cars to smooth the car battery loads as well as to accelerate the vehicle and regenerate its braking energy.
The use of a supercapacitor in connection with storage batteries made it possible to significantly reduce the power of the battery discharge during a peak load.
ТThe battery current was reduced from 6C to 1.5C.
According to TATA experts, the reduction in the storage battery discharge current results in a 2-3-fold increase in the battery life.
Besides, based on the energy consumption control system of the car the supercapacitor was "charged" from the car battery or using regenerative energy whenever the load capacity was low..
ENGINE STARTUP SYSTEMS FOR HEAVY-DUTY VEHICLES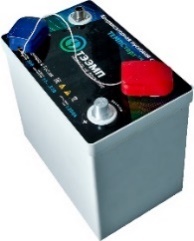 Onboard startup system CCO3-28V250F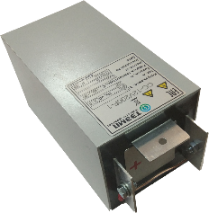 Onboard startup system CC-12V200F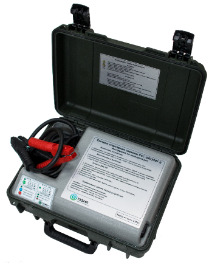 Mobile startup system CCC-28V250F
The main task – is to guarantee the startup of the internal combustion engine for wheeled
and tracked vehicles with on-board voltage 12 V, 24 V.
Advantages:
Operation in extreme climatic conditions: -60...+65 °C;
Higher output currents (up to 1,500 A) providing a guaranteed cranking of the engine shaft;
Useful life exceeding 10 years;
Startup with 65% discharged storage battery;
Extension of the standard battery lifetime by transferring the startup loads onto the TEEMP startup system;
Reduction in the number of standard storage batteries;
Reduction in weight and dimensions of the vehicle power supply system.